Frank Mir

Mir in 2013
Birthname
Francisco Santos Mir, III
Born
May 24, 1979
Las Vegas, Nevada,
United States
Nationality
American
Height
6 ft 3 in (1.91 m)
Weight
260 lbs (118 kg)
Reach
79 inches
Mixed Martial arts career
Organization
UFC
Division
Heavyweight
Style
Brazilian Jiu-Jitsu, Boxing
Stance
Southpaw
Fighting out of
Las Vegas, Nevada
Team
Jackson MMA
MMA debut
November 2, 2001
Mixed Martial arts record
Wins
19
Loses
13
Francisco Santos Mir, III (born May 24, 1979 in Las Vegas, Nevada) is an American mixed martial artist and a Brazilian Jiu-Jitsu Black Belt , competing in the Heavyweight division of the Ultimate Fighting Championship. He is a former UFC Heavyweight Champion and a UFC Interim Heavyweight Champion. Mir is currently ranked the #10 heavyweight in the world on UFC.com.
Biography
[
]
While watching the first Ultimate Fighting Championship (UFC) event, UFC 1: The Beginning, Mir was not yet convinced of the benefits in learning Brazilian Jiu-Jitsu: "I was fourteen watching the first UFC with my father and everyone was getting taken down and choked out by this scrawny Royce Gracie. I could not believe it was happening! My dad wanted to learn what they were doing right off the bat, but I defended what I already knew. I thought I could adjust for it. I felt I could defend against Jiu-Jitsu instead of being humble and trying to learn it."
His father convinced him to begin Wrestling, on the basis that it could help him avoid submissions; however, Frank attended Bonanza High School in Las Vegas, Nevada where he had a record of 44–1.[1] He started wrestling during his junior year and lost his first nine matches but won the state championship as a senior in 1998. He was also on the school's football team that reached the Southern Zone semi-finals in 1997 and where he played as fullback and defensive end. He also took up track and field in 1998 where his discus throw of 177 feet, 10 inches is still a Sunset Regional record.
In 2004 after defeating Tim Sylvia at UFC 48: Payback Mir received his black belt in Brazilian Jiu-Jitsu from Ricardo Pires after only 5 years of training.
Mir worked as a bouncer at the Spearmint Rhino strip club in Las Vegas before entering the UFC,[2] and continued to work as Director of Security there while pursuing his UFC career.[3] In addition to fighting in the UFC, Mir also worked as a color commentator for the WEC.
MMA career
[
]
Mir met UFC matchmaker Joe Silva at a school Silva was visiting. Silva saw potential in Mir as a future UFC fighter and suggested that he first prove himself against some fighters in the Mixed martial arts world. Mir would make his professional MMA debut against Jerome Smith at HOOKnSHOOT: Showdown on July 14, 2001. Mir won the bout by judges decision after two rounds. He won another match by submission at IFC Warriors Challenge 15.
After these events, Mir made his UFC debut against Roberto Traven. Traven had fought once in the UFC before (at UFC 11), and was the 1999 ADCC Submission Wrestling World Championship open class champion and 6th degree Black Belt in BJJ.[4] Mir defeated Roberto Travern by Armbar at 1:05 of round one at UFC 34: High Voltage on November 2, 2001. The submission earned Mir the "Submission of the Night" award.
Mir's next match in the UFC was against Pete Williams, which took place at UFC 36: Worlds Collide on March 22, 2002. Mir submitted the veteran Williams (who had never been submitted before[5]) at only 46 seconds into the first round with a shoulder lock that has since been named after Mir.[6]
He faced Ian Freeman, at UFC 38: Brawl at the Hall, held in London, England on July 13, 2002. Despite several leg lock attempts by Mir, Freeman achieved side control at around four minutes into the first round, landing numerous elbows and punches on Mir's head. After Freeman separated, the referee signaled an exhausted Mir to stand back up. A time out was called due to an apparent cut on Mir's face, and the referee stopped the fight when a wobbly Mir had difficulty standing up.
Mir then faced David "Tank" Abbott at UFC 41 on February 28, 2003. Mir[7] defeated Abbott in only 46 seconds into the first round by submission (Toe Hold).
On June 26, 2003 Mir fought Wes Sims at UFC 43: Meltdown. Mir won by disqualification at 2:55 of round one after Sims stomped down on Mir's face after slamming his way out of Mir's Armbar attempt. They would rematch at UFC 46: Supernatural on January 31, 2004. Frank Mir won by knockout at 4:21 of round two.
Heavyweight championship
[
]
On June 19, 2004, Mir faced Tim Sylvia for the vacant UFC Heavyweight Championship at UFC 48: Payback. Referee Herb Dean stopped the fight at 50 seconds into the first round when Mir's Armbar visibly broke Sylvia's right forearm. Mir trapped Sylvia's right arm in an Armbar attempt. When Sylvia tried to pull out of the hold, Mir jerked back harder and Sylvia's radius bone snapped about 3 inches below his elbow. Sylvia repeatedly claimed his arm was not broken, even touching it and moving it around to show he was O.K. Sylvia was taken to the nearby hospital where an x-ray showed that his arm was in fact broken in four different places.
With this technical submission win, Mir became the new UFC Heavyweight Champion and later received his Brazilian Jiu-Jitsu Black Belt for his performance in the fight.[8]
Motorcycle injury
[
]
On September 17, 2004, Mir was knocked off his motorcycle by a car. The accident caused a break in Mir's femur and tore all the ligaments in his knee. The bone had broken in two places but the injury did not end Mir's career as a fighter. Major surgery was needed to repair the bone in his leg. An interim heavyweight title was created whilst Mir was recovering from the injury, which Andrei Arlovski won by defeating Tim Sylvia by way of a first round submission. On August 12, 2005, the UFC learned that Mir was not able to fight Andrei Arlovski in October as scheduled, thus Mir was stripped of the title after 14 months, and Arlovski was promoted to the undisputed UFC heavyweight champion.[9]
Return
[
]
Mir recovered from his motorcycle accident and fought Marcio Cruz at UFC 57: Liddell vs. Couture 3 on February 4, 2006. In a shocking upset, Mir was defeated by the relative newcomer in the first round by TKO due to strikes. Initially, referee Herb Dean called for a break to check a large cut on Mir's face. Mir was given the opportunity to continue, and did so.
Mir returned to the Octagon on July 8, 2006 at UFC 61: Bitter Rivals and faced Dan Christison.[10] Mir had gained a considerable amount of weight and quickly became exhausted. Mir won, in a very disappointing, lackluster fashion by unanimous decision after three rounds, the judges all scored the bout 29–28.[11] Criticism began to flourish with Mir not looking like the same fighter as he was before, both physically and technically.
Mir next faced Brandon Vera at UFC 65: Bad Intentions. Mir showed slightly improved sharpness on his feet, and boxed well until he was stunned by a straight right from Vera, he was then dropped by knees from Vera's Muay Thai clinch, where the smaller Vera delivered elbows & punches from side control, forcing the referee to stop the fight. Mir lost by TKO at only 1:09 of the first round.[12] After, Mir drew very heavy criticism, critics and fans alike wrote him off saying that he had not and will not be the same since the motorcycle accident. Frank Mir's previously bright career appeared to be dim from here on out. He later commented on a UFC build-up show that during this run of bad performances, "I lost to a guy that shouldn't even have been a heavyweight".
Rebirth
[
]
Frank Mir was scheduled to fight Antoni Hardonk at UFC Fight Night 9 on April 5, 2007, but had to drop out due to a shoulder injury.[13] Mir recovered from the shoulder injury and fought Antoni Hardonk at UFC 74 and won via submission (Kimura) at 1:17 of the first round.[14] At the end of the bout, Mir walked to the cameras pointing at himself saying "I'm back!". Frank's wife Jennifer was shown on the replay screaming and crying with joy when Frank secured the Kimura and the fight was stopped.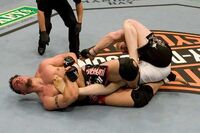 Mir fought Brock Lesnar at UFC 81 on February 2, 2008. Early in the first round, Lesnar took Mir down and, while striking from Mir's guard, he landed an illegal strike to the back of Mir's head, drawing a foul and a one-point deduction from referee Steve Mazzagatti.[15] They were stood up and Mir was given a brief recovery period, but Lesnar quickly dropped Mir with a right hand. When Lesnar escaped an Armbar attempt, Mir caught him with a Kneebar, causing Lesnar to tap out at 1:30 of the first round.[16]
The Ultimate Fighter Season 8
[
]
On May 12, 2008, Spike TV announced that the UFC Interim Heavyweight Champion, Antonio Rodrigo Nogueira and former champion Frank Mir would be the coaches for the eighth season of The Ultimate Fighter.[17]
The season, which premiered on Spike TV on September 17, returned to the two-weight class format. It featured Light heavyweight and Lightweight fighters.[18] Production on season eight began in late May, with the entire cast announced in September, and concluded in December.
Interim heavyweight championship title shot
[
]
Frank Mir fought Antonio Rodrigo Nogueira at UFC 92 for the UFC Interim Heavyweight Championship.[19] This bout was part of a mini-heavyweight tournament, often hyped by Dana White. The winner of this fight would then face the winner of the match between the heavyweight champion Randy Couture and Brock Lesnar. Lesnar won by TKO in the second round, gaining him the heavyweight championship belt in the process and then setting him to face the winner at UFC 100 to unify the belts.
Frank Mir then won in the second round via TKO due to strikes, showing vastly improved striking (particularly his boxing), by knocking Nogueira down twice in the first round, and once in the second. He also scored a Judo-trip takedown in round one.[20] Herb Dean stopped the match at 1:54 of the second round. Nogueira's loss marked the first time he had lost a fight by KO/TKO.[21] In a post fight interview, Mir credited his improved striking to a drastic improvement in conditioning.[22]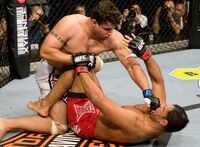 Two days after the fight Dana White revealed in an interview that "Nogueira had just gotten over a Staph infection."[23]. Nogueira himself verified this fact several months later in his own interview, stating that he had a Staph infection "20 days before the fight, requiring 5 days in the hospital." When asked if this infection affected his fight, Nogueira answered: "For sure." In addition to this significant illness, his knee was injured during training for which he had surgery in February 2009. Despite these legitimate handicaps, Nogueira offered strong praise for Frank Mir's performance, with particular credit given to Mir's ability to maintain "very good distance."[24]
Heavyweight championship unification
[
]
Frank Mir's victory over Nogueira set in place a rematch with the UFC Heavyweight Champion Brock Lesnar for the UFC Heavyweight championship.[25] However, Mir stated, that in his opinion, holding victories over former Interim Heavyweight Champion Antonio Rodrigo Nogueira at UFC 92 and current UFC Heavyweight Champion Brock Lesnar at UFC 81 is enough to recognize him as the owner of the "real belt".[26] On May 23, 2009 in Las Vegas, Nevada, Frank Mir was scheduled to fight Brock Lesnar at UFC 98, however Mir sustained a knee injury during training which required arthroscopic surgery and the removal of bone chips from his knee. Mir's rematch against Brock Lesnar was rescheduled for UFC 100, on July 11, 2009.[27]
Mir faced Lesnar at UFC 100, on July 11, 2009. Lesnar came in with an improved game plan, taking Mir down at will and smothering Mir while landing strikes. In round 2, Lesnar started landing heavy punches to the head of Mir, which rendered Mir unconscious and caused Herb Dean to stop the bout at 1:48 in the second round.[28]
Decline
[
]
Mir had his next fight against Cheick Kongo on December 12, 2009 at UFC 107. Mir was expected to weigh 20 to 25 Ibs heavier than usual, meaning he would have to cut weight to get to the 265 lb limit.[29] Indeed, this turned out to be true as Mir weighed in for his fight against Kongo at 264.5 lbs. At the weigh-ins, Kongo refused to face Mir during the traditional staredown before the fight. During the fight, Mir stunned Kongo with a left overhand early, dropping him and following up with strikes until he secured a Guillotine Choke victory at 1:12 in the first round. Kongo refused to tap and was rendered unconscious by the submission.[30][31][32]
In the post-fight press conference Mir expressed his desire to have a rubber match with Brock Lesnar.[33]
Mir nexted faced Shane Carwin for the UFC Interim Heavyweight Championship on March 27, 2010 at UFC 111. Mir engaged in a clinch battle with Carwin early, which later proved to be a mistake as Carwin won via knockout by uppercuts late in round 1.[34]
Mir created controversy after commenting that he wanted to break Brock Lesnar's neck, so that he would become the first Mixed martial artist to die in competition. Mir later made an apology for his comments.[35]
Mir was set for a rematch against Antonio Rodrigo Nogueira at UFC 119, however, Nogueira pulled out due to a knee injury and was replaced by dangerous striker, Mirko Filipovic. For three and a half rounds, Mir and "Cro Cop" engaged in a lack luster sparring match with very little aggression coming from both fighters, however, that all changed when Mir landed a devastating knee to the chin of Mirko, knocking him out in unexpecting fashion. Both Mir and Filipović were heavily criticized after the bout.[36][37]
Mir then faced former IFL Heavyweight champion Roy Nelson at UFC 130 on May 28, 2011. Mir earned a unanimous decision after 3 rounds of fighting.[38]
The rematch with Antonio Rodrigo Nogueira took place at UFC 140 on December 10, 2011. Nogueira took control of the fight early by boxing up Mir in the clinch and rocking Mir with a straight right to the side of the head, However, Mir was able to recover and lock up a Kimura, submitting the Brazilian at 3:38 in round 1 and snapping his arm in the process. He earned Submission of the Night and 2011 Submission of the Year for his performance.[39]
Mir was expected to fight Cain Velasquez at UFC 146, however Alistair Overeem (who was scheduled to fight Junior dos Santos in the main event) was removed from the event, Mir replaced Overeem and challenged Junior dos Santos for the strap. Throughout the fight, Mir found success with leg kicks and by keeping his distance, but the power of Dos Santos would be too much for the former Heavyweight champion, he succumbed to a technical knockout in round 2.[40]
The UFC announced that Mir would be temporally going to the Strikeforce banner to face up-and-comer Daniel Cormier on November 3, 2012. However, Mir pulled out of the bout due to injury. The fight was rescheduled and took place at UFC on Fox 7 in San Jose, California. He lost by unanimous decision.[41]
Mir returned in the following August, facing former UFC Heavyweight Champion Josh Barnett at UFC 164 in Milwaukee, Wisconsin. The pair engaged in a clinch war with both of them landing strikes, but Barnett got the better of the exchanges and landed a knee to the temple of Mir, ending the fight at a minute and 56 seconds into the first round.[42]
Mir was scheduled to face Alistair Overeem on November 16, 2013 at UFC 167.[43] However, the pairing was moved to February 1, 2014 at UFC 169.[44] When they met, Mir lost a one-sided unanimous decision. Through out the fight, Mir was rocked with a knee, punished with knees to the body and dominated with a vicious ground-and-pound attack. The fight against Overeem was Mir's fourth loss in a row and it is uncertain if he will remain with the company.[45][46]
Personal life
[
]
Mir's father is Cuban, born of Moroccan immigrants of Russian descent. The surname "Mir" translated from Russian, means "world" or "peace" (depending upon the context). The family name was never "Miranda" as the fighter and his father already explained to the press.[47] Mir and his wife Jennifer have three children together and Jennifer has a son from a previous relationship, whom Mir helps raise and is in the process of formally adopting.[48][49]
Mir is an atheist[50] and a Libertarian.[51] He followed a vegan diet for a year[52] but then switched to Paleo diet for supposedly better athletic outcome.[53] Mir suffers from low testosterone and has been undergoing testosterone replacement therapy since 2012.[54]
Color commentary
[
]
Frank Mir was a color commentator for the World Extreme Cagefighting until WEC 47, where he was officially replaced by Stephan Bonnar who had filled in for Mir due to training commitments.[55][56]
In June, 2012, Mir stated in an interview with The Chronicle-Journal that he wants to go into commentary when he retires from MMA.[57] "I like analyzing fights and I like doing color commentating" - said Mir. "It's an opportunity I would take advantage of when I run into it. Hopefully it's something I can do full time".[58]
Championships and achievements
[
]
Mixed Martial Arts
[
]
Submission grappling
[
]
Brazilian Jiu-Jitsu

Black belt in Brazilian Jiu-Jitsu under Ricardo Pires

Pan American Championships

Blue Belt Pesadissimo: 1st place (2001)

North American Grappling Association

NAGA Absolute Division Champion (2007)
Amateur wrestling
[
]
Nevada State Wrestling

Nevada State Wrestling Champion (1998)
Mixed martial arts record
[
]
Professional record breakdown
5 
0 wins
0 losses
By knockout
4
7
By submission
9
0
By decision
3
1
By disqualification
1
0
Result
Record
Opponent
Method
Event
Date
Round
Time
Location
Notes
Loss
16–9
Alistair Overeem
Decision (unanimous)

UFC 169

February 1, 2014

2
3:41

Newark, New Jersey

, United States
Loss
16–8
Josh Barnett
TKO (knee)

UFC 164

August 31, 2013

1
1:56

Milwaukee, Wisconsin

, United States
Loss
16–7
Daniel Cormier
Decision (unanimous)

UFC on Fox: Henderson vs. Melendez

April 20, 2013

3
5:00

San Jose, California

, United States
Loss
16–6
Junior dos Santos
TKO (punches)

UFC 146

May 26, 2012

2
3:04
Las Vegas, Nevada, United States
For the UFC Heavyweight Championship.
Win
16–5
Antônio Rodrigo Nogueira
Technical submission (kimura)

UFC 140

December 10, 2011

1
3:38
Toronto, Ontario, Canada
Submission of the Night; 2011 Submission of the Year.
Win
15–5
Roy Nelson
Decision (unanimous)
UFC 130

May 28, 2011

3
5:00
Las Vegas, Nevada, United States
Win
14–5
Mirko Filipović
KO (Knee)

UFC 119

September 25, 2010

3
4:02

Indianapolis, Indiana

, United States
Loss
13–5
Shane Carwin
KO (punches)
UFC 111

March 27, 2010

1
3:48

Newark, New Jersey

, United States
For the Interim UFC Heavyweight Championship.
Win
13–4
Cheick Kongo
Submission (guillotine choke)
UFC 107

December 12, 2009

1
1:12

Memphis, Tennessee

, United States
Loss
12–4
Brock Lesnar
TKO (punches)
UFC 100

July 11, 2009

2
1:48
Las Vegas, Nevada, United States
For the Unified UFC Heavyweight Championship.
Win
12–3
Antônio Rodrigo Nogueira
TKO (punches)
UFC 92

December 27, 2008

2
1:57
Las Vegas, Nevada, United States
Won the Interim UFC Heavyweight Championship.
Win
11–3
Brock Lesnar
Submission (kneebar)
UFC 81

February 2, 2008

1
1:30
Las Vegas, Nevada, United States
Submission of the Night; 2008 Submission of the Year.
Win
10–3
Antoni Hardonk
Submission (kimura)
UFC 74

August 25, 2007

1
1:17
Las Vegas, Nevada, United States
Loss
9–3
Brandon Vera
TKO (knees and punches)
UFC 65

November 18, 2006

1
1:09

Sacramento, California

, United States
Win
9–2
Dan Christison
Decision (unanimous)
UFC 61

July 8, 2006

3
5:00
Las Vegas, Nevada, United States
Loss
8–2
Márcio Cruz
TKO (punches)
UFC 57

February 4, 2006

1
4:10
Las Vegas, Nevada, United States
First fight after motorcycle accident.
Win
8–1
Tim Sylvia
Technical submission (armbar)
UFC 48

June 19, 2004

1
0:50
Las Vegas, Nevada, United States
Won the UFC Heavyweight Championship; Later vacated title.
Win
7–1
Wes Sims
KO (knee and punches)
UFC 46

January 31, 2004

2
4:21
Las Vegas, Nevada, United States
Win
6–1
Wes Sims
DQ (illegal stomping)
UFC 43

June 6, 2003

1
2:55
Las Vegas, Nevada, United States
Win
5–1
Tank Abbott
Submission (toe hold)
UFC 41

February 28, 2003

1
0:46

Atlantic City, New Jersey

, United States
First and only toe hold finish in UFC history
Loss
4–1
Ian Freeman
TKO (punches)
UFC 38

July 13, 2002

1
4:35
London, United Kingdom
Win
4–0
Pete Williams
Submission (shoulder lock)
UFC 36

March 22, 2002

1
0:46
Las Vegas, Nevada, United States
Win
3–0
Roberto Traven
Submission (armbar)
UFC 34

November 2, 2001

1
1:05
Las Vegas, Nevada, United States
Submission of the Night
Win
2–0

Dan Quinn

Submission (triangle choke)
IFC 15

August 31, 2001

1
2:15

Oroville, California

, United States
Win
1–0
Jerome Smith
Decision (unanimous)
SF 11

July 14, 2001

2
5:00

Evansville, Indiana

, United States
References
[
]
External links
[
]