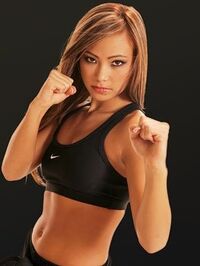 Michelle Waterson (born January 6, 1986) is an Thai American female mixed martial artist and model whose nickname is The Karate Hottie.[1][2]
Born in Colorado Springs and raised in Aurora, Waterson began her modeling career in 2004 after she graduated high school.[3]
A karate student since the age of 10, Waterson holds a Black Belt in American Free Style Karate and has also trained in WuShu and Muay Thai.[4]
Waterson rose to fame as a contestant on the Muay Thai-themed Fight Girls reality show on the Oxygen television network.[2]
She is featured in the music video for Head Crusher, the first single from the Endgame album by the American Metal band Megadeth.[5]
MMA career
[
]
Waterson made her MMA debut on February 16, 2007 at Ring of Fire 28: Evolution against Andrea Miller and won the fight by Unanimous Decision.[6]
She faced current Freestyle Cage Fighting Champion Lynn Alvarez at Ring of Fire 31: Undisputed on December 1, 2007, but lost by submission in the first round.[6]
Waterson made her Strikeforce debut against Tyra Parker at Strikeforce: Payback on October 3, 2008.[2] She won the fight by rear naked choke submission in the first round.[7]
Waterson faced Karina Taylor at Duke City MMA Series 1 on March 1, 2009.[8] She won the fight by armbar submission in the first round. There was some controversy with this fight due to the fact that Taylor did not tap out to the armbar.[9]
On April 11, 2009, Waterson fought former WIBA and IFBA Flyweight Boxing Champion Elena Reid at Apache Gold: Extreme Beatdown.[10] Reid won the fight by TKO in the second round.[11]
Waterson most recently faced the debuting Rosary Califano at EB - Beatdown at 4 Bears 6 and won by submission due to a flying armbar in just 15 seconds.[12]
She will next face Masako Yoshida at "Spring Brawl" on April 24, 2010.[13]
MMA record
[
]
Professional record breakdown
15 
7 wins
3 losses
By knockout
1
1
By submission
5
1
By decision
1
1
Result
Record
Opponent
Method
Event
Date
Round
Time
Location

Masako Yoshida

Spring Brawl
April 24, 2010

Fargo, North Dakota

Win
7-3

Rosary Califano

Submission (Flying Armbar)
EB - Beatdown at 4 Bears 6
February 13, 2010
1
0:15

New Town, North Dakota

Loss
6-3
Elena Reid
TKO (Punches)
Apache Gold: Extreme Beatdown
April 11, 2009
2
1:50

Phoenix, Arizona

Win
6-2

Karina Taylor

Technical Submission (Armbar)
Duke City MMA Series 1
March 14, 2009
1
2:36

Albuquerque, New Mexico

Win
5-2

Tyra Parker

Submission
(Rear Naked Choke)

Strikeforce: Payback

October 3, 2008
1
1:20

Denver, Colorado

Win
4-2

Cristal Macatol

Submission (Armbar)
SCA - Bike n Brawl 2
August 23, 2008
1
0:22

Albuquerque, New Mexico

Win
3-2

Thricia Poovey

TKO (Corner Stoppage)
King of the Cage: Badlands
July 12, 2008
2
N/A

Albuquerque, New Mexico

Loss
2-2

Lynn Alvarez

Submission
(Guillotine Choke)
Ring of Fire 31: Undisputed
December 1, 2007
1
1:19

Broomfield, Colorado

Win
2-1

Jaime Cook

Submission (Armbar)
Ring of Fire 30: Domination
September 15, 2007
1
1:33

Broomfield, Colorado

Loss
1-1

Alicia Gumm

Decision (Unanimous)
RMBB - Battle of the Arts
June 30, 2007
2
5:00

Denver, Colorado

Win
1-0

Andrea Miller

Decision (Unanimous)
Ring of Fire 28: Evolution
February 16, 2007
3
3:00

Broomfield, Colorado
See also
[
]
List of female mixed martial artists
References
[
]
External links
[
]